Computer Science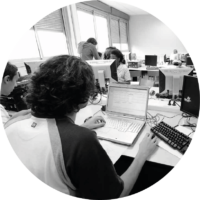 Computer science: An up-and-coming field! The IUT's Computer Science department trains students for careers in computing and technical support in order to best meet companies' needs. Examples of intended professions include: Web application developer, online game developer, database administrator, network and security administrator. Our goal is to train technicians and executives who will be fully equipped and capable of adapting to companies economic and technological needs. Furthermore, thanks to the fundamental  theoretical knowledge they will have acquired throughout the course, students can pursue further short or medium-term studies.
LIST OF COURSES
BACHELOR
VOCATIONAL BACHELOR
Contacts
INTERNATIONAL OFFICE
Tel. : +33 (0) 4 99 58 50 21
→ English subtitles available. Please activate it.
Our students describe their studies. Listen to their experience :