THE IUT
For 50 years, the IUT Montpellier Sète has offered technical courses in the form of two and three-year undergraduate degrees.
Our aim: to welcome our students and lead them to succeed, preparing them for immediate entry into the workforce or further studies either in France or abroad.
Thanks to programs designed in close collaboration with professional environments, our IUT also fulfills companies' needs.
The IUT allows students to prepare diplomas within the European framework of higher education (the three-part structure of Bachelor's, Master's and Doctorate) in the secondary and tertiary sectors.
8 University Bachelor of Technology (B.U.T)in the secondary and tertiary sectors
19 vocational undergraduate programs called "Licences professionnelles" (all with the possibility of work-study programs)
The IUT in numbers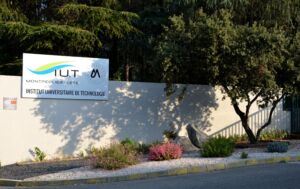 2campuses (Montpellier & Sète)
2200students
200professors and research professors
500visiting professionals
8departments of study
8B.U.T and19vocational undergraduate degrees
80 %of our courses are offered as work-study programs
1out of10students on internships or studying abroad
Partnerships with50foreign universities