The IUT's Communications Department is at your service to provide information regarding: 
internal communication,

external communication,

events at the IUT,

media relations / social media.
The Communications Department's main mission is to promote the IUT's image among outside partners and to facilitate communication within the school. This involves: Promoting the IUT and its course catalogue through different communication methods, including the Student Fair, Open Days and visits to high schools. Broadcasting information regarding the different departments, student projects, student associations, the course catalogue and cultural events (TV in the lobby, website, posters).
We can accompany users with several different activities, including:
STUDENT PROJECTS
The Communications Department offers to help you with your different projects (student desk activities, parties, exhibitions, competitions, sport,…):

Visual

Communicating via social media

Publishing on the News section of our website ("Actualité")

Communicating on the HD screen in the lobby

…
Is there a project of a cultural, athletic or social nature, or one that will boost the IUT's image ( whether or not it be integrated in your course) that you wish to advertise within the IUT or to external bodies? Contact us.
COMMUNICATION TOOLS
The department designs, produces and distributes different communication tools: posters, flyers, booklets, etc.
It is also tasked with managing the school's promotional items. 
WEBSITE
Creating and managing our website: updates, news articles, etc.
News Watch
EVENT MANAGEMENT
The department is in charge of organising events within the school:
The IUT's Open Day

The IUT Night ("Nuit des IUT") : national themed evenings opening IUTs to the outside world

Seminars

Forum on further studies

Presence at the Student Fair

Presence at high school events

The IUT Montpellier is present on most social media platforms to promote its activities. For all projects involving media or social media, please inform the Communications Department beforehand.
THE IZLY CARD, FOR ACCESS TO DIFFERENT SERVICES
One single card with various uses: This new student ID card is provided to all university students within the Académie de Montpellier education area. You can keep the same card for three years after you are first issued  it.  There is no money on the card when you are given it, you have to put money on the Izly card using your bank card (a 5€ minimum) thanks to one of the many machines on campus. Your Izly card allows you to:
Pay for meals in the university canteens and dining halls (CROUS) thanks to an e-wallet,

Borrow documents from the academic libraries,

Pay for purchases in shops that use the Monéo e-wallet system, 

Prove your Pass'Culture membership (Pass'Culture is a government scheme providing an allowance to 18 year-old for cultural activities).
MY ENT ACCOUNT
When you log into your ENT account (in French: Espace Numérique de Travail, i.e your Student Portal) with your username and password, you can access numerous services including: 
Webmail, the University's email service, where you can adjust the settings and choose to receive university emails on any given email address.  Careful though! Important information is sent via the University's email service, so make sure to check your emails regularly. 

Classes and resource material online

News and information

Your student record and exam results

Online re-enrollment procedures 

Your timetable 
Click here to activate your online account: http://ent.umontpellier.fr
You can find your username and password on the SCOL'PASS document that was issued with your student card. 
Do you have a project in mind?
You can contact the IUT's Student Experience Committee (in French: CVE or Commission de la Vie Étudiante). You can also submit an application to the FSDIE (in French: Fonds de Solidarité et de Soutien aux Initiatives Étudiantes, i.e the Solidarity and Development Fund for Student Initiatives), who can fund collective  projects within the university (cultural or humanitarian projects, conventions, sporting events). To submit an application, contact the University's Student Life Office (in French: BVE or Bureau de la Vie Étudiante). 
The CVE is made up of the different elected student representatives. It ensures close communication with the IUT and gives a voice to students from all fields of study. The aim is to help liven up the Montpellier and Sète campuses by undertaking and supporting different projects, from organising and promoting events to improving our facilities  and equipment. 
What is an academic library or "BU" ("bibliothèque universitaire") ? The academic libraries provide on site and remote access to both paper and electronic documents on all topics. They are places of culture and relaxation for reading news articles, novels or comics, watching DVDs, etc. At the IUT, you can find:
Works regarding your degree's subjects

Magazines and journals on science, technology and general knowledge

Warm and inviting workspaces with open access to computer stations and Wifi (facilities for printing, scanning documents, binding and photocopying are available).

A welcome desk and assistance with documentary research
At the start of the current academic school year, the Montpellier Campus' academic library underwent a facelift and now offers three new digitally connected workspaces designed for collaboration (with interactive digital whiteboards, digital tables).
TOP TIP: thanks to your student card, you can borrow or have documents shipped from any of the academic libraries on the Montpellier, Sète and Nîmes campuses! You can then return them to any academic library of your choice (regardless of where you borrowed them from).
Download the Affluences app for live updates about available spots in the BU academic libraries.
Find the University's libraries
Multimedia libraries in Montpellier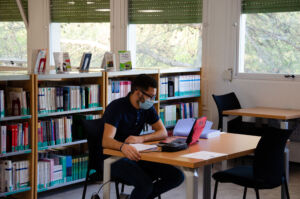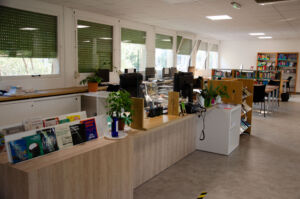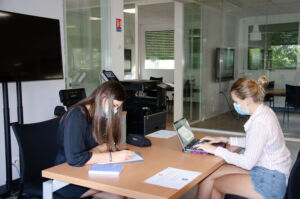 CONTACTS
LIBRARY MONTPELLIER
OPENING HOURS:
Monday: 9:00 am – 12:00 pm -1:00 pm – 6:00 pm
Tuesday : 9:00 am – 12:00 pm – 1:00 pm – 7:00 pm
Wednesday: 9:00 am – 12:00 pm – 1:00 pm – 6:00 pm
Thursday: 9:00 am – 7:00 pm
Friday: 9:00 am – 6:00 pm
1rst floor – Administrative Building
Address:
99 avenue d'Occitanie
34296 MONTPELLIER CEDEX 5
Map of the Montpellier Campus
Access map for the Montpellier campus
LIBRARY SÈTE
Located next to the Secretary's Office, on the right
OPENING HOURS:
Monday – Thursday: 8:00 am – 5:00 pm
Friday: de 8:00 am – 11:00 am
Access map for the Sète Campus